Asian Promise is an international Asian dating service. It has helped hundreds of couples find love online since the year 2000 and has achieved a very high success rate. Please see some of our success stories – Asian Promise.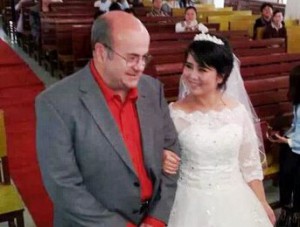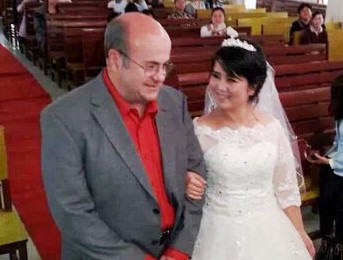 From my point of view was getting married to a lady from a different culture and part of the world, is China a good idea?
In my case it was. I had reached a point in my life where I had passed my 50th birthday and I still had not found a life partner. So I took a chance and took out membership with an international dating online website. After three months, I had a message from a lady in China introducing herself so I sent a letter back the next day. From then on, e-mail was going in both directions every day. After a few weeks we started to use Skype when we could. Some time later we discussed the possibility of myself having a short holiday in China to see her. I did, and we became engaged. The following year I returned to China where our Wedding took place in October, 2014. So I would have to say it has all been worth doing.
I would also say that if you are undecided about marrying someone from a different part of the world, it would open up a lot of possibilities that you did not know existed.
N Caruth (England), 8th October 2015
Hi, I met my girlfriend Jubilee (ID 14236) and now fiancee via your website. We met sometime around November, 2013. I'm currently working on filling out the paperwork for getting her a K1 Visa for the United States. Thanks a lot!.
Eric (USA)/ID 14393, 27th August 2015
Dear Dawn (Xiaoyan) and Richard,
As I write this, I cannot help but remember all that has happened since I began the search for my soulmate. After a failed relationship that hurt me deeply, I did not know what to do or even if I should simply give up on finding the one I would one day call my wife but I still had a glimmer of hope within me that eventually lead me to your website. This is where I met Jinmei, the one I married this September on the 29th of 2010.
At first, we were both unsure about where this relationship would lead us and I was also more cautious because of my previous experience. We both sought to establish friendship first and learn about each other before considering a more serious relationship. Gradually, our relationship grew from friends to lovers until I went to China for my first airplane trip from Canada. Much had happened before I boarded the airplane, but somehow it feels that this decision to go was the most important decision of my life, especially considering my fear of heights. As my airplane landed in China after a 23hours flight on the 26th of August, Jinmei was waiting for me at the airport and I was finally able to hold her in my arms. I then knew she was the one I wanted to be with for the rest of my life.
From the very first day, I knew both of us had begun to change, growing from a relationship of girlfriend/boyfriend to that of wife and husband. Although I very much like China and would like to spend the Chinese New Year with her, I will most likely be going back to Canada sooner than I had originally planned so that I can start working on the immigration paperwork as we both made the decision to establish our family in Canada. I am planning to come back to China with my wife though after all of this process will be completed so that we can both see the many places this great country has to offer such as the Great Wall of China that I have yet to see with my own eyes.
We both wish to thank you both from the bottom of our hearts to have provided us the opportunity to find each other. Although we both had doubts about finding love online, your website allowed us to find happiness in each other's arms.
Patrick   (Canada)   and Jinmei/2199, 15 October, 2010
Hi Dearest Xiaoyan,
I hope everything is going very well with you and your family. Do you remember me? I was there this Feburary when AP (Asian Promise) had the meeting at Dengshikou, Beijing and I helped you with some of the interpretation that evening.
I am very happy to send our blessings from me, my son and my husband. I also want you to share our joy. It's an extreme amazing and fantastic love story happened to us and there was only 3 months between we met via AP in May and got married in August. I will write to you more details when I can. Everything just seems like the best I could never imagine. Our love and marriage are so strong it feels like living in the heaven in this life.
Thanks again so much and with lots of love, take care! Say hello to Rich and your daughter and son! I just can not express how happy we are right now.
Our perfect love and marriage bring the following thoughts to me
The more deeply, more unselfishly, and more properly one loves, the happier they will be. The source of this happiness is unlimited, and it can overcome any kinds of disease, pain, suffering or difficulty in the world.
The only way for human beings to live beyond this limited life, is to live in this kind of love, and it brings such a joy of and with the intergration of the soul and the body.
Dawn Xiaochun/2301   12 September, 2010
Thank you dear friends for being concerned about how apparently quickly my relationship with Xiaochun has developed. I kept it quiet for a while until I just couldn't be quiet any more because I knew I had found a soul-mate and life partner like none other I had yet known or suspected would fill those roles. I was too happy to stay quiet.
Dawn Xiaochun is wise, patient, intellectually agile and fun to talk to about anything, deeply kind and loving, and bears all the traits that for millennia Chinese women have cultivated: a powerful sense of self and an equally powerful sense of caring for those they love. She wants to provide a peaceful and loving home for me (and I for her). Xiaochun has an 8 year-old son and she has me and her devotion to both of us, though one is very, very young in relation to the other (and the strongest mother-child bond), is profound. Xiaochun and I found each other in a way that the Universe facilitated and put understanding into our hearts that transcended time. Some of you may see me as simply love-smitten. Well, sure, I am. But I am also almost 50 and am skeptical of things which seem too good to be true. To some of you, this is. To me, this is God answering tear-assisted prayers to alleviate emptiness and solitude by someone who has shed the same tears and bears the same depth of feeling for another.
This is not a woman who just wants to leave China and find a better life with an American man. This is a woman who wants to love again (for the two of us it is going to be a more mature love, so it will be like the first time for each of us) and be loved. In China, it is very difficult for a divorced woman to re-marry because of chauvinistic cultural attitudes. So they turn to men who don't hold those biases… men outside of China, like me.
Thank you for caring. Come to our wedding, which will most likely be sometime in mid- to late 2011, after she and Lu Yuan have emigrated. And meet this wonderful woman who is going to create a beautiful life with me.
Kevin (U.S.A), 22 May, 2010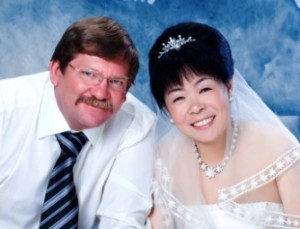 Dear Dawn & Richard
I wish to inform you both that on Monday 23rd-02-2009 my self Norman of Ballina N.S.W. Australia and Feng of Tianjin China were married at the Registry Building in Tianjin China. We both wish to thank Asian Promise most sincerely for giving us both the opportunity to meet fall in love and ultimately find out life's partner we both thank most sincerely.
I spent 12 wonderful days in China mainly in Tianjin and met many many wonderful people, new relatives and many new friends. I will return to China in July and in October Feng will immigrate to Australia, but i think it is foolish not to return to China each summer to maintain contact with family and friends. If we can be of any assistance to any of your members in current required procedures and required documentation, please do not hesitate to email either of us.
Norman/3683 (Australia), 4 March, 2009
Hello!!!
We are writing you to tell you THANK YOU!! We met from your website. After talking online for several month I (Dave) took a trip to China to meet Joy! We spent a whole month together traveling from Beijing to Shijiazhuang to Xi'an and back again! WE got to know each other very well and I am planning my next trip and trying to get her visa so she can come see me either in the USA or at my work on the cruise ship!
We love each other very much but are also taking our time to make sure we do everything right for us as a couple. Any more advice you have will be a appreciated. I can tell you more of our story if you want just email me back. Joy can also write you so you have 2 very happy people to write comments for your website!
Dave (USA) and Joy/2060, 30 November, 2008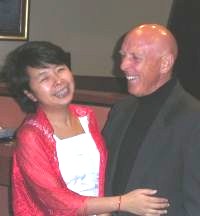 Dear Asian Promise,
Thank you for all the information in this great website. My husband William and I met each other on Asian Promise in September 2006. He came to China, visiting me in January 2007. Our love story lasted since then. We got married in June this year. My number in Asian promise was 1803, while we both forgot about his. But we do remember that it's you who gave us a gold opportunity in life.
Now we are happily together and we will never forget your effort, Asian Promise. Actually I've already told some friends about your website and your high quality service. I am proud of being a good example of Asian Promise.
Nann 17 October, 2008
Dear Dawn Xiao Yan and Richard,
I would like to thank you for your great website. I have met a very special lady thanks to Asian Promise and I am very grateful to you and your website. Without Asian Promise I would not have had the chance to meet Florence. We both were very skeptical that finding someone online was possible but thanks to you I think we both feel differently now.
Since our first contact with one another we have kept in contact with each other on a daily basis thru email, messaging and internet phone. Florence is very special to me and I feel that as more time passes we will grow even closer. I am looking forward to having a future with such a special lady.
Good luck to all members of AsianPromise.com. I truly hope that you all find happiness as I have.
Best Regards,
Jim/ID3139 (USA) & Florence/1976,  9 August, 2008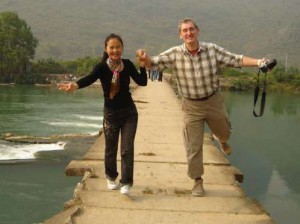 Dear Dawn Xiaoyan,
I'm writing to say thank you for a great website – from my side from the very start, I found your ladies honest and straightforward, with not a sign of some of the bad things that can be experienced with Internet dating. Later, I discovered how you give personal advice to your clients, and how you give individual support when it is requested.
How did I discover this? Well, Xiaochuan told me. We were married in June 2008, and have set up home in UK (after a few problems with UK visas! ) Xiaochuan was the third lady I conversed with, and she is all that I ever wished for, with traditional Chinese values.
I am so glad that I found your website, so glad that I found Xiaochuan, and so glad that I have found a new life based on old-fashioned trust, dependency and care – and of course, love!
Thank you again – Richard (UK)  13 July, 2008
Dear Asian Promise,
Just a quick note to say thank you for providing such a wonderful service. I was a member for one month last year during which time I met a very special lady. Our relationship is now progressing very well – I have been to China to meet her and will return again in summer. I have made a small donation via your web site to show my appreciation and hopefully help you to continue to help other find happiness.
Thank you again for making this relationship possible for us, and also for your book which I bought from Amazon before I joined Asian Promise – it helped give me the confidence to do this. Sincerely yours, Ian
Ian/2277 (UK) – 23 April, 2008
Dear Dawn Xiao Yan,
I just want to share the happiness with you! Andy have arrived in China again in the early of this month, we enjoyed our wonderful time in Lijiang, a beautiful place, where we have done many interesting things and talked much more about our plan. We will live together in the near future and Andy will try his best to make it happen.
I am a lucky woman because I have met Andy, a so nice man from your website. I really appreciate you for the great opportunity you provide to us!
Lenny/1944, 18 January, 2008
Dear Dawn and Richard,
I think it was June of 2005 that I stumbled on to your web page. I was intrigued by the stories and testimonials of how people came together and fell in love. Roger from Massachusetts wrote a very eloquent letter describing his experience. As I read his letter, I could see many similarities in the two of us.
The first day I wrote three women emails of introduction and very quickly got three responses. I bonded immediately with a lady from Guiyang in the Guizhou Province and continued writing her exclusively. Two months later I was on a plane heading to my impending wedding. I know this could have been disastrous, but I was concerned her daughter would reach her eighteenth birthday and not be eligible to immigrate to the United States.
So we were married in China. Jiang Zhijun was the most beautiful person I have ever met. She was everything she portrayed herself to be. She expressed a warm and deep love for me from the very beginning. The three weeks following the marriage we traveled across China spending all our time together falling even deeper in love with each other. Soon it was time for me to leave.
My wife quit her job to concentrate on learning English. We stayed in touch talking on the phone every night and sending emails. Five months later I was back in China to spend the Spring Festival with her and her daughter. Along with this wonderful feeling, I developed a concern. I was worried about going through the US Immigration process. I had heard there were many people who were denied Visas to enter the United States. I took no chances and hired an immigration attorney to oversee the application process. I even returned to be with my wife at the US Consulate's Office where she had to pass a stressful interview. That was 2005.
It is now 2008 and my stepdaughter is getting ready to graduate from high school in Orlando with a scholarship to a university here in Florida. My wife has a driver's license and freely travels the Central Florida area with the use of a GPS map. She is attending school and her English is improving daily. Both have their green cards and are now permanent residents of the United States. I would say we have had a happy ending, but its just beginning.
Thank you for making this wonderful marriage possible.
David Caldwell (USA) – 4 January, 2008
Hi, I'm Andy (member 2049). I just want to tell you that I have met a wonderful woman off your site in August, her name is Lenny. I visited China to see her at the beginning of October and we had a lovely time together, although the visit was short and lasted only a week. We communicate every day via e mail and msn and see each other using webcam. I plan to go back to see her in early January. I could never imagine meeting someone like her, she is a wonderful person and we are both very happy and in love. I hope that we have a very long and loving relationship. So just to let you know, I will be taking my profile off your site because I believe I have met my soul mate. Many thanks again for making it possible for us to meet each other.
Andy/2049 (UK) – 29 October, 2007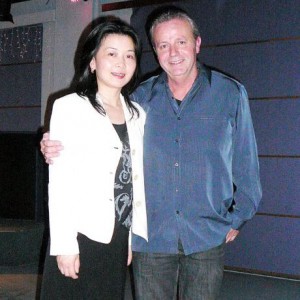 Hi Dawn & Richard,
My name is Michael. I live in New Zealand. I met Amie (1733) on your website Asian Promise last November. I have spent all of March in China with Amie and we have decided to get married in October. – November. this year. Thanks to your great website that I have found this beautiful woman who will be my future wife. Regards
Michael (New Zealand) – March, 2007
Hello Dawn and Richard,
Sorry for the late reply. Yes, I was one of your members-1229-who listed as a free member around October last year. I never had to pay subscribe, because I guess I was lucky–no, for *sure* I was lucky, as I found my match, lady member 1725 (named Li), during that free period.
Following a nearly 3 month daily email conversation that began early after my sign up (from her initial note), I visited her in Shenzhen over this past Christmas. The visit was wonderful, we both confirmed our truthfulness, and that we really love each other. We were only briefly nervous, after a couple of hours it was very easy, as if we had known each other for quite some time. I will return to see her during Chinese New Year in a few weeks, and we keep in contact by phone/webcam, text/instant message on a daily basis (and occasional email). Marriage is not far away I think. She is a truly a lovely woman.
Your service did not produce this happy situation, but it positively enabled it, and I feel it simply could not have happened otherwise. I had spent nearly 3 months total on work assignments in Shenzhen prior to signing up with Asian Promise, and I can tell you this is a much more powerful and consistent way to meet Chinese women than by any chance encounter with a (English speaking) woman in China, or by introduction for that matter.
So your caring, excellent work deserves support and compensation. Not everything should be free on the Internet. And that only the woman should pay, who comes from a much more modest economic circumstance than I, seemed not quite fair. Finding my likely lifetime love through your site has no calculation in monetary terms, but I feel better by making the contribution that I have. I am unsure what a fair donation should be, but I am certain in my case it is not less than what I gave so far.
I apologize for the length of this note, but here are a few comments regarding your service, as they apply to my perceptions:
1. I thought no one will be interested in my profile.
After my picture/profile was posted, I thought no woman would ever send me any note, and I had time to consider my "plan". However, I was shocked to see invites come in very soon. Before I had any chance to decide who I wanted to send invites to.
2. Play the field: not.
I read with some amusement the dating tips from your site several weeks after I had signed up and was corresponding with Li on a daily basis. The advice makes sense, I did initially correspond with a few women, but I discovered very soon that it took a major investment in time for me to compose emails and correspond with even one lady, let alone several. My amusement was "where do these guys get the time to really know someone by email–for obstensibly marriage–and play the field with several women?" I actually became anxious over the invites I kept receiving, since I knew I could not possibly keep up with it. It became a worry how to handle these invites.
I spent easily nearly 2 hours to compose email–this was nearly every night–to collect my thoughts, think carefully over my words, to try and make sure I will be understood, etc. It became another job in some respect, one I very much enjoyed, but a real commitment. On top of that, I was taking Mandarin class a few days a week, and there was homework. It became clear to me it was impossible to do that for several women. In the case of Li, she lives in Shenzhen by pure luck, and the start was made somewhat easier because we used that as a common point of conversation, but that very quickly passed and we talked on a very personal basis for nearly the entire time. So I decided to invest the time getting to know her, and if it did not work out, then I would restart the whole thing and try again with someone else. So after maybe two weeks of correspondence, I corresponded solely with her. I asked Li when I visited her how long it took to write the emails, and she also said it took a couple of hours to do each one. (Her English is quite good also.)
I thought I might be overboard on this email, so I asked a colleague of mine (who met his Chinese wife in Shenzhen by introduction), how long he spent on emails to her when they were corresponding when he was back at the states, before they to got married. Same answer, 1-2 hours/email, for the same reasons as me. He told me he actually felt much relief when they switched to phone/web cam from email, since it was so much easier than the pressure of composing emails. But phone/web cam seems to work best only after you know each other for a time.
The few women I did correspond with in the beginning convinced me yours is a special site, that the women are genuine and sincere, and in many cases, extraordinarily talented as well in their professions. Many of these women I could see being friends with, they are truly exceptional, and very nice people overall.
3. I thought Email won't work
This is my first time at Internet dating, which truth be told, I thought was very unlikely to work to meet anyone, and that sharing feelings and emotions over email would not be practical. I thought you need physical presence to develop feelings and intimacy. On these points I was totally wrong. However, after 2-3 months it appeared to both of us we must meet, if only to sort out if we were liars, or instead we are the people we appeared to be over email. It is interesting that on both her side and mine, friends were somewhat skeptical, and cautioned us to "be careful". It turns out I think that is good advice, but that is why I made the trip, to see if this was real or not. So while I was surprised at the depth of the connection one can make with another person over email, a physical reality check is essential to confirm feelings and expectations.
Thanks for listening, and for running such a great site.
Don Grubbs (USA) – 29 January, 2007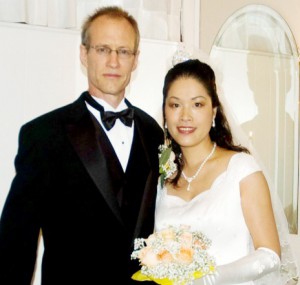 Dear Dawn XiaoYan,
We are so happy to tell you our good news. We have met in person in Dec 23rd, and we found we are very well matched. We want to spend the rest of our lives together. We like to think we got each other for Christmas presents. We have had great time together. We would like to send our picture to you. We like you to share our happiness.
We just got back from the ancient water town Zhouzhuang. We will send you a picture of us in Zhouzhang later. We would greatly appreciate if you could post our pictures we sent you on Asian Promise website.
Kris/1209) & Annie/1808 –  January 2007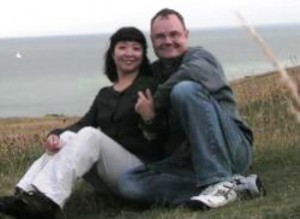 Thank you so much for your deep concern. For everything you and your website have made us Clive and me to be happy together…. My words is a whole lot of thanks because of you and the Asian Promise who give our real happy and joy by the great and extraordinary cause.
Now I am enjoying the summer holiday with Clive in England. It would be very wonderful to get married in this winter holiday with a Chinese wedding ceremony. I'd love to share our love story with you and Asian Promise sisters. I send a present photo was taken from the down land of a beautiful coast city in England.
Nancy/1586, August, 2006
To Asian Promise,
Having registered with Asian promise I have to say that its worth reading the tips on things to do and not to do. My initial contacts with the person who is now my wife (your member 1708), were clumsy and in Asian standards very forward. I was forced to step back and formally introduce myself . And it seemed to work. She responded, though a little reserved. From there things progressed reasonable quickly and after 6 weeks I was booked to fly to Beijing. We had both talked about getting married, but in true Asian tradition, she had not sent many pictures to me. I on the other hand had, in true western style, sent many pictures to her. The important thing for her seemed to be the inner person, and that worried me a little.  Would she like the inner person, but not the outer person.
Anyway the day arrived and my plane touched down at Beijing. About 2 hours late, after an . . . .eventful stop in Shanghai. But I was lucky, she was still waiting  for me when I cleared immigrations. One point here I must say. It is worth packing a razor and a tooth brush in a small bag so you can clean up before you land. My flight was a long one, and I would have looked like a hairy gorilla had I not cleaned up 20 minutes before landing.
I will not bore people with details, but for the 6 days I had in China, we visited the officials, the doctors and the New Zealand embassy. We were married in the Chinese equivalent of a registrars office, and a couple of days later we had the big family meal. I am not quite certain what was said. But there was a lot of laughing and the family seemed happy for both of us. Things had gone very smoothly, and better than expected. The Chinese officials had been easy to deal with and very helpful. Now I am back in New Zealand, and once all visa's are cleared, and personal details sorted. My wife will join me for a life in the land at the bottom of the world.
To anyone planning on doing the same. What can I say. To quote Nike – Just do it. But do try spend as long as you can in China. It is a wonderful place. And do book into one of the wedding studios. We spent all day in one in Tian Jin, and what a fantastic experience. Well worth the time and the money, and what a great way to remember a wonderful time.
A huge thank you to all the people at Asian Promise for giving us this start in life. Without them none of this would have been possible.
John / ID 787 (New Zealand), June 2006
Dear Dawn Xiaoyan:
How are you? I am member 1565 Isabella who have met a nice man Jan on your site in October in 2005,and we both had good feeling of each other, through monthly chatting and phone call, we finally met at 22nd of March in Beijing, we visit the Great Wall, Forbidden City and The Panda resource Centre in Chengdu. One of the highlights was of course meeting my parents and we had a great time together, Jan was getting tennis lessons from my father, which he enjoined very much.
To acknowledge our love to each other we were engaged at March 28th 2006. After another two months waiting I finally get the visa to travel to his country. Here I am happily to write to you that I am with my fiancé here in Holland and we are so happy together.
Thank you so much for your help
Isabella/ID1565, June, 2006
Hi this is Jan from Holland, like to thank you so much for setting up this site; I had a great experience in China and am looking forward to a great future with Isabella.
I can recommend Asian Promise to everybody who is looking for a lovely Chinese lady
Jan (Netherlands), June, 2006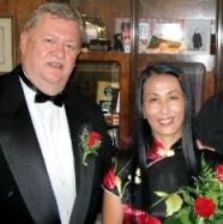 Hi Xiaoyan,
I was your member in 2003 (member No. 1351). My name is Lu Jian Hua. My husband's name is Terrence. I am in USA now. I am very grateful for you to give a chance to find my happiness. My husband and I are happily living together now.
Jian Hua / ID1351
Dear Xiaoyan,
My name is Terrence Tutaj. I am the husband of Lu Jian Hua. We met through Asian Promise in late 2003 and were married on June 22nd 2005. I have attached wedding pictures to this. Feel free to put them on your website. Thanks so much for your wonderful website.
Terrence (USA), February 2006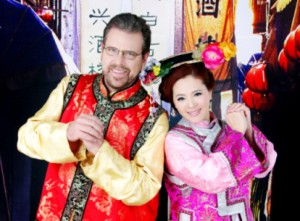 Hi Xiaoyan,
How are you? I am member 1441, Susan. I got married on Oct 29 2005 in USA. Thank you for offering a wonderful chance to meet my husband. Now I am very happy with my husband together in USA. The following is a thankful letter from my husband to you:
I joined Aisan Promise in late June, 2004. I immediately started getting messages from many lovely Chinese women. Then, Susan wrote to me. Her words and picture immediately touched my heart. I knew I had found the love I was looking for and started corresponding only with Meilin.
Since that day in July I and write e-mail to MeiLin every day, no matter where in the world I am. We first met face to face in August and September, 2004. We first met in ChongQing, Sichuna, then took a cruise down the YangTze River to Yichang, then traveled to Hangzhou, then to Shanghai, then to Beijing and finally to SuZhou. It was a very wonderful trip and we saw many beautiful places in China together. It was during that trip that I asked Meilin to marry me.After I returned to the US, we continued to talk on the telephone and write e-mail every day until we met again in December, 2004 to January 2005. We met again in ChongQing and visit her mother's tomb and meet her family and friends. I had a wonderful time, they are very nice people and I feel close to them, even though they do not speak English and I do not speak Chinese. I look forward to seeing them again when I return to China to bring Susan to the US for our wedding. We then flew to KunMing to start our wonderful vacation in Yunan Province. While in Yunan we traveled to XishuangBanna, Dali, LiJiang and ShanGriLa. It was a wonderful trip with many beautiful natural views and many different cultural experiences.
My last trip to visit Susan was in March – April, 2005. We traveled to Xi'An and saw many antiquities from Ching and Tong dynasties, including the army of terra cotta warriors. Susan is the most wonderful woman I have ever met. She is beautiful, intelligent, kind, giving and her love knows no bounds. She is very devoted to me and shows her love for me in countless ways. When we are together she takes hundreds of pictures of me. When we take a taxi she makes me enter first and protects my head with her hand. When we eat, she gets food to me. When we look at the wonders of China, I look at the view and she looks at me. I am the luckiest man in the world!
Susan got her visa on Sep. 10 2005. I and Susan enjoyed good time with her family and friends in her hometown. I and Susan flied to USA on Sep. 29 2005. We got married on Oct. 29 2005. Now we are very happy together. Thank you for offering a wonderful chance to find a wonderful wife. I do hope that ohter western men also will find a wonderful wife through Aisan Promise someday.
Sincerely, Donald G. Pierce, Ph.D.(USA),November 2005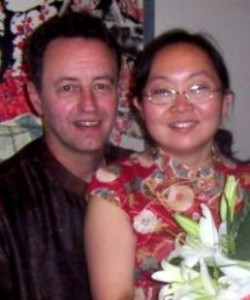 Do you still remember me? I am one of your members 1489 "endearingso" (Chai yajie) from Beijing . I joined Asian promise from the middle of Sep. 2004. Now I am so glad to tell you and everybody here a very good news:I married to Danny, who from America , on 11th July finally.
I have ever written you mails tell you everybody I met and failed. It is you give me more encourage and bless when I feel sad and disappointed. Your mails like a candle brighten the darkness in my life, and directed me a way to a new happy family life. And I notice you already stopped publish lady's e-mail address on the web, it is so kind of you to avoid sisters be attacked by rubish mails.
My husband – Danny, the last one I got chat with from Asian promise, the 8th man from Asian promise. He didn't register there, but he read it and send me a mail just in 1 line asked me if I am still look for a man to be my husband.
Perhaps 8 is a very lucky number in China , it really bring me lucky and changed my life. He is the truest one to me. He asked me a lot of questions at the first time we chat. Nobody asked me same lots of questions before him, only I asked others. I felt he was different from all others. But I still thought about his age – he is 14 years older than me. When I connected with him more, I told myself that age is not the most important between us. What I want is just true love and steady happy family life. I do not want other things. I felt that when I was out studying, he kept try to connect with me. I told myself perhaps this time I meet the Mr. Right for me. He chatted with me as more as he could, twice a day about 3 hours: morning before he went to work, and evening before sleep. And if couldn't chat, he called me. And this keeps till now. He bought telephone card at once, send me a lot of photos. His voice is bright, and his smile makes me smile. I tell myself in my heart he is really special man. And after 5 months we married in China. It is a so nice feeling to love and be loved. Though my husband is 7000 miles away now, at the other side of the earth, but our hearts are always together. He will come back soon at Christmas. And we will do everything we can to live together in the future.
Above is my story and pictures that I like to share with you and every sister in Asian promise. Hope every sister here will find her Mr. Right finally.
Endearingso/1489,September, 2005
I would like to thank Asian Promise for the great web site and the women they have on it.
I  met my soul mate and future wife here. I met my darlene 1493 , but her real name is Ping on January 3th 2005.  I wrote to her and waited for a reply. She replyed the next day.  At first she wasn't too interested in talking because she was having a bad time. Her company closed down and she lost her job. She wasn't in the mood for a relationship. But I kept writing to her and over  time we  started to fall in love with each other.
We talk about everything. I got to know her and her daughter Anni very well. Then in March, we started to talk about getting married, but frist we both agreed it would be a good idea to meet in person. So in May I made my first trip to her home town, where Ping and her daughter met me at the airport with beautiful  flowers. The flowers were no match for the beauty of Ping and her daughter Anni. We spent the next week with each other as much as we could. During that stay there the love grew to where I made the decision to ask Ping to marry me and she said YES, but we wanted to get her parents blessing first and they agreed too. Since then our love has grown and we have started the long wait for our K1.
While we been waiting I`ve been back to China where we met again in Beijing and spent a week there then went back to her home town, where we had a wonderful time. We started looking for a new home there for us. I wanted to stay there with her but had to return home. I am now waiting for another visa to go back to my loving Ping and Anni. I hope other couple`s can find the love we share and the life we plan together.
THANK YOU AGAIN ASIAN PROMISE FOR THE LOVE OF MY LIFE!
Peter (USA),September, 2005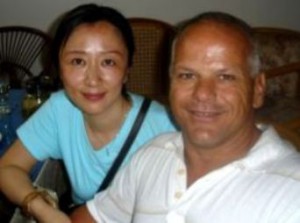 Dear Sister Xiaoyan
I'm very happy to tell you I found my love at last. It's not easy for me and it really has taken a long time. I have ever told you I lost my job after this Spring Festival. It's a hard time for me because I need to support my daughter and myself. I was in bad mood and have no mood talking love with someone at that time you know. I told this to Peter who I was contacting with then.
To my surprise, he didn't stop writing to me. On the contrary, he showed his very caring and loving to me in his e-mails. I was very moved and encouraged by his words. We talked a lot and met each other over webcam many times. He is a gentle man with great sense of humor. We have met in person twice since then. He has started to apply a fiancee visa for me now. Thank you very much sister Xiao yan!
I am Darlene. I met Peter over internet through Asian Promise. He wrote the first e-mail to me at third of Jan. 2005. So, we began our communications by e-mails since then. We shared a lot of same opinions in the past six months and fell in love with each other gradually. We both don't care about other's look and wealth. We value simple life and our requests to spirit is higher than material.  The more we get to know each other, the deeper we love each other. There is chemical between us when we met each other in person at Changchun airport on 14th. May 2005, three and half months after we met on internet. We had a very happy week in my hometown.
Peter visited me again this month. We had a very good time in Beijing. I missed him very much when he went back to the US. So we chat online and see each other on webcom every day. We also writes emails frequently. Peter calls me every several days because we want to hear each other's voice. I call him too sometimes. One thing that Peter touched me very much is that he regards my daughter as his own. My parents like Peter very much and they all want us to get marry in the future. I don't believe what I have found today. I love Peter so much that I want to marry him. We will work on it no matter how long it will take. I will cherish  Peter in the rest of my life.
Darlene/1493,August, 2005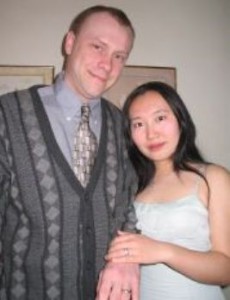 Dear Xiao Yan:
This is Cherry, I just came back from Paul's family in Michigan. He proposed me and I said yes, so the diamond ring is on my finger now. His parents like me very much and they are both nice and funny people. I had a good day playing with his son and we played video games and I got defeated so many times. We also had a sword fight, the boy won again but he cheated, haha… Now he is putting his house on sale and he is going to change his job and move down to Manhattan to live with me. He said whenever I'm ready to get married, just let him know. I'm sending you our picture to share.
Cherry/1576,June,   2005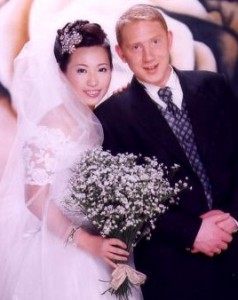 Dear Asian Promise,
I have given you a success story a while ago about me and a memeber of your site (member 1282) that go married last year !! You have since posted it up on your site, but I have no photos on it!!! I can not seem to be able to upload a photo, so I am seding you a link for our photos.
You can have a look and upload a photo for me if you be so kind. If you have any problems to upload, you can email me.
Thank you so much !! Just to let everybody know how nice it is. Bye bye. And thanks once again.
Francis (Ireland) & Cici/1282,April, 2005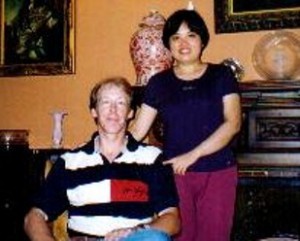 Dear Asian Promise,
Thank you for everything you do here. Last year I met Wei Wei (1293). I had a special feeling about her as soon as I saw her picture and read about her. We are also both Christains. After getting to know each other using email and phone calls I went to China to meet her. I have never before had such an exciting time in my life as this. All her family are very nice and special people and she herself was really Sweetest and most fun woman I have ever know right from the begining. She is very outgoing and very honest and very romantic woman. We just get along so well together now since I have been to visit her 3 times and she will soon be receiving her visa and we will be married soon after that. I will always love her.
I can not put into words my gratitude to you for bringing us together! Thanks again and Best wishes.
Dan (USA), May, 2004
Hi Dawn,
I understand you are going to Beijing in April. I have sent (via a Chinese attorney in Ohio) a Fiancee Visa request to the new Homeland Security (the old INS / Immigration). Nebraska is the slowest of the group of offices, but I am hoping my congressmans office will be of assistance, especially in light of the fact that I had a prior application. I will keep you posted. Wenjie and I will be glad to provide you with letters and photos once we know that she is going for her exit interview. I also want you to know how great Wenjie is. She truly is as sweet of a woman as I could ever hope for and also so very smart. I feel more love for her with each day and e-mail. I think we will be perfect together and I am grateful for your service.
I see some new and pretty faces on your site, but I am surprised that there are not more people in your "lovers" section? Perhaps there are others like us who are in the process now? I hope that is the case.
I will also keep you posted as to how this attorney handles things and if it was worth the added costs. I do think that most intelligent people can complete the forms but it only takes a minor mistake to create a major delay.
That is all for now. Please let me know if I can be of assistance in any other way. Thanks again and best wishes,
Jay (USA), February, 2004
Dear Asian Promise,
I just want to let you know that I met a woman on your site and we have fallen in love. I know we have not yet met, but we have so much in common. I have found her to be perfect in every way.
I want to express my sincere thanks for allowing us to meet. I will keep you updated on how our relationship goes. I am sure we will marry in the New Year.
David (USA), January, 2004
Dear Dawn,
Thank you so much for your fast responce and great service. I have met someone that I have only seen in my Dreams as far as becomming my Wife. She is Victoria #1389. There are of course a few little things we are going to have to work out but If she were with me Now it would not be fast enough, hee,hee,hee. Oh yes, we have it bad, and we want the whole world to know about it. I did not understand totally about your responce I got back from you but from what I understand, You get good advertisement from having success letters from your Lovers. I can understand that but may I ask or suggest maybe where you have the Add to cart or what ever what it says. Those of us that have Fallen in Love want everyone to know about it and really prefer others not be contacting them any more. Would it be possible and also good advertisement to put, Engaged under their picture until there time runs out? Does this make sense? It would not only make your clinents happy but be good Advertisement of your success. If this makes any sense to you please let me know what you think?
Thank you again so much for everything you are doing.
Billy (USA), January, 2004
I recently got in touch with one of your girls from Nanning China, I went there to visit nanning and the most wonderful time!! Her name was cici (member number 1282), we are getting married in May!! Just tought I would be nice to let you know and thank you so much for the site!!! Really good!!
Francis (Ireland), January, 2004
Far, far away across the sea,
Where white houses and sea gulls meet,
There lives my love.
Far, far away is my love,
And far are our memories,
And far away to you my love fies.
The day will come my love,
When we will meet,
And we will join our memories.
Milan, Australia, July 2003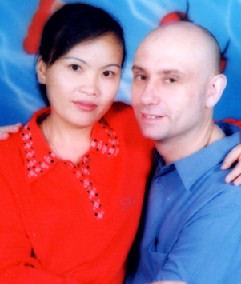 Thank you for helping me find the girl I will spend the rest of my life with. I have been searching for my soulmate for so long, and then I discovered Asian Promise web site.
We met through Asian Promise in November 2002. Since that time, we became very close by contacting each other by telephone and on the internet.
In March 2003, I came to China to meet my girl and we were married just a few days later. We had a traditional Chinese wedding in her home town. Lots of friends came to the wedding, it was such a special occasion.
I am writing this email from China with my beautiful wife, Lily, sitting right here beside me. I know we will be very happy together in our future.
Tony, Britain, April 2003
I met Susan(your member number 1272) here on your site last Sep, We seemed to connect right from the start after a couple emails we started to use MSN Messenger to chat and I called her a couple times on Sundays, which evolved into I now call her everyday to wake her up before work and using Netmeeting to video conference every morning and evening. I returned from China a month ago it has been a dream of mine since I was 7-8 years old to visit and to have such a wonderful tour guide only made it better.
Many people are surprised by the fact I found someone outside US and wonder how I can maintain a relationship with someone so far away, They also don't realize she is as close as my heart and only a computer screen away and we spend 3-6 hours a day Seeing, Chatting, Talking that is more then many couples do when they live together. There I a great number of things I would like to say but don't know how I just know I am the happiest I have been in many years.
I wrote something for her awhile back and placed it on my site, it is an analogy of Love:
Dedicated and Written for Susan
Is like a seed, not a seed of a flower, But the seed of a Red Wood Tree that lives for centuries, Once the seed is planted it needs to be nurtured so it can get a healthy start in life, If it is not given a healthy start it will wither and die or be stunted and never reach its fullest potential, However if given a good start it will take hold with deep roots and grow stronger each day, During its life time it will suffer many hardships as shown by its scars and if it is not to severe it will come back and continue growing until the day it dies, But even then it stands as a monument to what it was, In time it will fade and decay, But even then it will give of it's self to help it's offspring get their healthy start in life.
Love with seed in heart,
Darrell, USA, March, 2003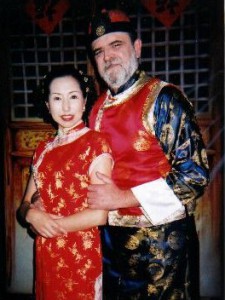 It was a very lonely night for me when I decided to play on the computer and maybe try to meet an Asian girl. I thought it might be nice to find a friend that I could write to and tell my heart to. Getting divorced after being married for 22 years had really taken it's toll on me. The divorce had devastated me. I was feeling so very alone and very sad.
All I wanted was someone who I could write to, maybe even talk to on the phone sometimes. I had heard that Asian women had a different attitude than American women did. I thought I would find out for myself. I didn't really like being so alone and I did feel so very alone.
Somehow I found Asian Promise (www.asianpromise.com) and began looking at the different profiles Asian women had posted. There were many women to look at and so I wrote a letter (e-mail) and sent it to several of them. It was the same letter to each. I wondered who if anyone would answer to such a lonely and depressed man. I was 50 years old now and in debt. I was feeling so lost in life. Yet still I sent the letters.
By the grace of God I received this e-mail from a girl named 'Vanessa.' Her name sure didn't sound Asian to me, but her profile said she was Chinese and her photo looked as if she was Chinese. But a Chinese girl? From communist Red China? It felt a little bit scary to contact someone from Red China That's what I had been taught to call the country of China.
We began writing to each other quite a bit. I had so much hurt in my heart that to be able to release it to this girl who was so far away from me was truly a blessing. The many miles between us was more than enough to let me feel safe and secure. At that time I couldn't trust any woman. I just wanted a friend. It seemed to me that I had found one with this Chinese woman whose real name I found out was Xujing. Now that name sounded Asian to me.
For many years it had been a dream of mine to go to the great wall of China. I never imagined that such a dream could come true for me. It was so far away and it would cost so much money to go to see it. Of course after a while I did ask Xujing if she had ever seen the Great wall of China. To my surprise she told me of course she had, it was right there in Beijing. I thought she was so lucky. I dreamed of going to China to see the Great Wall myself.
A few weeks later Xujing invited me to visit China. She even said she would bring me to the Great Wall. She told me she would take good care of me, that she could do many things for me if I came to meet her. But to be honest, my desire to go to China was not to meet Xujing. All I thought about was going to see the Great Wall. I had no desire for a girlfriend or any relationship more than just as a friend. I didn't want to lead my Chinese friend on nor did I want to try to take advantage of her. I was very honest in all of my communications to Xujing. I love adventure. I love romance too, but I wasn't ready for any more romance in my life. I'd settle for some adventure though. There were a million reasons not to go to China and only one reason to go – to see the Great Wall. I could not afford the time and I had no money. But I still wanted to go. I searched online and began the process of finding out more about travelling to this foreign exotic land of mystery. But I was scared about it. I mean, I was going to communist China to see a girl who I only knew from the computer. I had heard so many bad stories about these relationships and meetings through the computer. I found out was that to stay with a Chinese family in Beijing, I would need to get a special license/permit from the Beijing police. OK, no problem. I was going to Beijing to see the Great Wall. I was just going to see a friend, that's all. A friend who was going to bring me to the Great Wall.
As I traveled for 17 hours on the plane, I got to know the flight attendants. I like to talk. They thought it was quite exciting about what I was doing. They told me that they had seen many people travel as I was to meet someone they had met on the computer. As long as both of the people had been totally honest with each other, they said, there was a good chance that things would go good. The flight attendants wished me luck and gave me a new full bottle of American wine for me to share with my new Chinese friends. They were all so nice to me and I enjoyed the flight very much even though it took so long. My adventure to China had really begun in earnest.
Excited and ready for the best, hopefully, I arrived in Beijing. Somehow above all the noise from an International airport, I heard the small sound of Xujing's voice calling my name. There she was, for real. She was a woman too thankfully. She had not lied to me yet! She even looked cuter than her photo and she was all smiles. Her English was good enough for me too. Against my protests, she took me to her mother's home where she said I would stay for the week. I told her about the police license I thought I needed and that I would just stay in a hotel. But she laughed and told me it was no problem. She said that it was OK, things were not like that in Beijing now.
Never do I remember being so welcomed anywhere as I was at her Mom's home. Her family made me feel so welcome, so special and wanted. I cannot even begin to explain how nice these people were to me. Just thinking about it now as I write this makes my heart feel so warm and grateful for now having such close friends and family. They shared all they had and gave their love so freely and truly, so completely. My God had blessed me so much bringing me to Beijing.
Xujing brought me to many places to see many things. I did go to the Great Wall of China. The Chinese say you are not a hero unless you reach the top of the Great wall. My dream had come true, I did climb and reach the top. Xujing made my dream come true for me. It was she who made my visit to China so great. She was the nicest of everyone there. For the entire nine days I was there, she took very good care of me. She brought me to see the Forbidden City, the Emperors Summer Palace, the Temple of Heaven and the Lama Temple. I met her family and her friends who all made me feel more than welcome in their homes. They all even gave me presents. So many presents. It is the Chinese way I was told. I was so glad I had that bottle of wine. I have never experienced such a wonderful place before in my life. Mostly it was the Chinese people that I met who made my stay in Beijing so wonderful. But it was Xujing who was the best to me. She was amazing.
Just before I was to leave China and head on home, Xujing told me that she had fallen in love with me. Oh boy……… oh boy, I had to get back home real quick I thought. I hadn't planned on this. I didn't know what to say or do except that I should hurry up and get back to the good old USA. That is just what I did too. I remember how good I felt then to get back to the USA.
I spent the next few months working hard trying to pay for my trip, but I found myself calling Xujing everyday more and more. I couldn't get her out of my thoughts. When I found myself driving down the highway with her photo on my dashboard, I started asking myself what the heck was I doing? I wasn't ready for a girlfriend. Especially one who was so far away, one who was on the other side of the world even. But I had never known a woman like her before. No one could be so unselfish. After all, I am an American. I am use to selfish people. I am selfish myself. But she wasn't. It couldn't be true. No one was really like her. No one could truly be that way. My mind was playing tricks on me. It had to be.
That is when I decided maybe I should go back to China again to see for sure. Yes, again. Again she was just awesome. Her family was awesome. Her friends were awesome. Everything about her was awesome.
She took me on a trip to Phuket Island in Thailand for five days. I got to swim in the Indian Ocean! How cool is that? We laughed so much and had so much fun together. I felt so at ease with her. I soon realized I had fallen in love with her too. How could I not fall in love with such a wonderful Chinese woman as she is? My God has truly blessed me. How grateful I am to 'asianpromise.com' for introducing me to Xujing.
We had a wonderful small wedding that my entire family here in America were very happy about. They are all very accepting of Xujing and all of them like her very much. Everyone treats her with the most respect and kindness as she treats me and them.
As hard as it is for me to believe, I am now a happy man. To think of all the troubles I have gone through in my life and to now be able to start a new life with such a great wife is truly a blessing for me and my family. I praise God, My Lord Jesus Christ for all the blessings He has rained down onto me.
Recently we found out that Xujing is now pregnant too. Wow, I am 51 years old and I am going to have a new baby. God is so great to me. I'm going to be a Daddy again. Life is wonderful. I am happy. Of course life will bring problems to us in America as in any country, but I think together we will rise above any troubles and hopefully live happily ever after. Why can't life be like a fairy tale? So far, life is good. I smile a lot now with Xujing. It is a nice feeling to love and be loved.
Roger P. Anderson, USA, February 2003
 Torsten, Germany,  May, 2002